Tragic fashion
I usually love all things Target, but this has got to be the most hideous piece of clothing I have ever seen. It looks like someone (I guess Tara Jarmon) went back in time to my grandmother's old house, tore down her kitchen curtains and made them into this coat. Just remember: too much of anything is bad -- even flowers.
This isn't to say I haven't picked up some wonderful things at my home-away-from-home lately. Saturday Julia, Jenna and I went there and got a cute butterfly backpack (we found it next to all the kids' gardening stuff that's SO adorable) to replace Jenna's diaper bag, which she was way too old for, anyway. Julia had made some money for writing my newspaper column for me last month, and she spent it on the latest Zoo Tycoon 2 expansion pack, "African Adventure."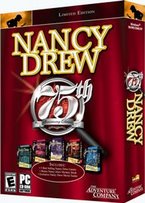 And more excitement in the Nancy Drew department. Right now there's a 75th Anniversary Edition that has five -- FIVE -- games for what one game usually costs. And it came with a book Julia hadn't read yet. So we're going to be solving mysteries for a long time to come.